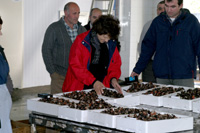 Laxe's fish market is notable for the commercialisation of fish and seafood originating from traditional coastal fishing, captured using selective methods and collected on a daily basis. All this contributes to ensuring the highest quality, so when the sales process is completed the product reaches the consumer in perfect condition.
Laxe Fish Market carries out an extensive information campaign so that customers are constantly made aware of the products they consume, as well as the placement of information panels located throughout the market. Revealing leaflets highlight all the handling processes in detail, from the fish's arrival at market through to its acquisition by buyers who will then distribute it through the different points of sale.
This information campaign aims to make the consumer aware about the necessity to demand the best possible quality when it comes to buying fish or seafood, and to know its origins at all times.
Today Laxe's fish market offers the best quality when it comes to buying fish and seafood, so if a person is looking for guaranteed quality they must ask for fish and seafood from Mardelaxe. You can also obtain information on (+34) 981 728 100 were you will be informed of your nearest distributor of
Mardelaxe
products.