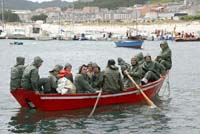 El Naufragio, (The Shipwreck) is a tribute to the Virgen del Carmen. It was started in 1962 by a fisherman from Laxe, Avelino Lema Santos, who survived three shipwrecks.
After the solemn church service to honour the Virgen del Carmen - patron of fishermen, that takes place on the 17th August, a procession marches through the village's streets. Once the Virgin arrives at the port, the performance of the Naufragio commences. Various fishermen come out on a boat from the north area of the port to simulate the journey they take when returning with their catch. Half way through the simulation they let off a flare before they shipwreck.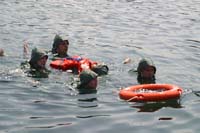 The shipwrecked fishermen swim towards the water's edge where they find the Virgen del Carmen waiting for them. Once they reach land they walk on their hands and knees until they reach the Virgin. Before getting to the water's edge, the last four go to retrieve the casualty and take him to land where they place him at the Virgin's feet in order for her to perform the miracle of resurrection.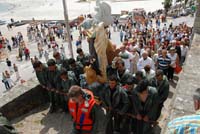 In gratitude, the shipwrecked fishermen sing "Salve Marinera". Following this, the decorated boats go on a procession through the estuary following the boat that carries the Virgen del Carmen.

When the maritime procession ends, the fishermen that participated in the shipwreck will walk barefoot back to the church carrying the Virgin over their shoulders.

This curious religious celebration takes place here in Laxe and in another small port in Perú.